The Top 7 FREE Resources to Learn Hand Lettering
So you want to learn hand lettering? Have you asked yourself, "How do I learn hand lettering?" or "Where should I start?" You are in the right place because this post is all about the top free resources to learn hand lettering. The best part is that they're all free lettering resources. I'm very excited to share them all with you!
I also have a post about the 3 best brush pens for beginners in case you don't know what pens to start with.
Before I get started, the best resource to learn hand lettering is right here on my website. I share lots of tutorials. I send an email to my newsletter each week with hand lettering prompts to practice and free lettering worksheets and resources.
Some of the numbers in the following image have changed as I updated this post because more and more resources are becoming available! And as I continue to grow, I am putting out as many free lettering resources as I can to help you.
The Top 7 Free Resources to Learn Hand Lettering
Lindsey's blog is full of resources for beautiful calligraphy and paper crafts. It was from her that I first learned fauxligraphy which I used for the first several months of lettering. She call's it "faux calligraphy" here. Once you master this skill, moving on to a brush pen will be so much easier. When you go to this tutorial, you might not be leaving her site for a few hours, so make sure to watch the time.
I do not claim to own the rights to this photo. It is from https://thepostmansknock.com/faux-calligraphy-tutorial/
As soon as you go to this brush lettering tutorial, you will be sucked in. Sharisse is very thorough and explains everything to the tiniest details. There is so much information that she is giving for free! She is so generous. If this was your only resource, you'd be on your way to an amazing hand lettering artist.
I do not claim to own the rights to this photo. It is from https://piecescalligraphy.com/learn/
3. Ensign Insights YouTube Channel
Yes, this is a resource from me! I spend a good amount of time creating videos reviewing and comparing brush pens so you know which ones might be a good fit for you. I also have a playlist of of lettering tutorials for hand lettering beginners. Want to binge lettering videos? Check out Ensign Insights YouTube Channel.
4. Amanda Arneill
Amanda was the first person I ever started learning hand lettering from. She is amazing inspiration and she is also so sweet to everyone. First, go to her site. On the home page you will see two free email courses that you must sign up for. The Letter Better Series and Flourishing Foundations have improved my lettering skills dramatically. And even better, they are free and they come right to your email. She has amazing free resources that you don't want to miss out on.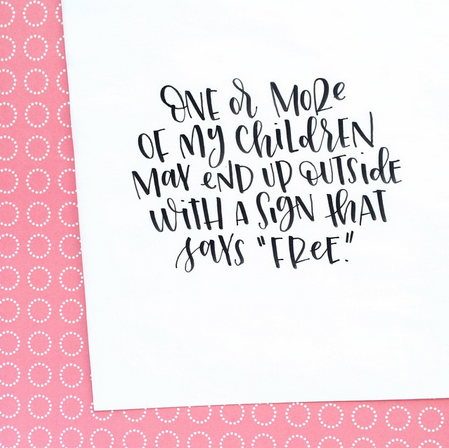 I do not claim to own the rights to this photo. This is from http://blog.tombowusa.com/2015/09/29/lettering-week-mix-and-match-letters-with-amanda/
5. Beginner's Guide to Learn Hand Lettering
This workbook includes 5 things I wish I knew as a hand lettering beginner. I've included free lettering worksheets and all the basics you need to know to get started! Sign up to get the guide!
6. The Insider Scoop weekly newsletter for free practice sheets
I send an email each week to my email friends with a lettering prompt to motivate you to practice and build confidence in your lettering. When you subscribe, you will also gain access to a library full of free lettering worksheets and resources. Does that sound like a good fit for you? Subscribe to the Insider Scoop! 🙂
Dawn's website is packed full of resources. You can spend days reading through everything. You should definitely get on her "Happy Email" list. Go to her Hand Lettering 101 post to see the resources specifically to learn.
I do not claim to own the rights to this photo. This is from http://bydawnnicole.com/hand-type-tips
Because Dawn is awesome, you can also learn how to do Bounce Lettering for free. For the longest time, I saw beautiful pieces where the letters seemed to be dancing, but I didn't know how to do it myself. If you feel the same, make sure to check out this tutorial.
Last thing about Dawn, you will want to make sure to download her free Fun with Flourishing eBook. This will give you even more tricks to flourish. Flourishes can be a fun way to spice up your lettering.
BONUS RESOURCE: Are you a visual learner? I recently discovered a resource from thisdesignedthat.com with 20 video tutorials to learn hand lettering. Seriously, it is the best compilation of hand lettering video tutorials I've seen. If you are only going to use one of my free resources, this is the one! Go check out these 20 hand lettering tutorials.
This photo is from http://thisdesignedthat.com/20-creative-hand-lettering-tutorials-beginners/
So now you have the top resources to learn hand lettering, it's time to start practicing! There are so many practice sheets out there. Lettering practice sheets are a great way to build muscle memory. My advice is to try a variety of practice sheets so you aren't learning just one font.
Free Lettering Practice Sheets
If you really want to learn hand lettering, it is going to take a lot of time to learn and practice. I have done the research for you, it's time for you to start learning and practicing. I am so excited for you! Lettering has changed my life for the better. 🙂
Are there some resources you love that I missed? Please let me know in the comments!